In a Nutshell
The Edison pre-fire Amberola V has it all: gear driven (no belts), flutter suppressing flywheel stabilizer, automatic shutoff and a Diamond B reproducer. And all that in Mahogany and already with Serial 386!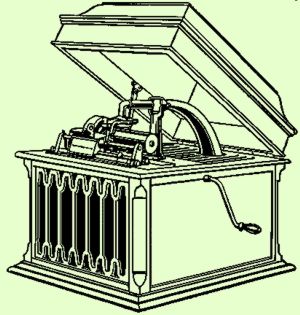 Introduction:
As the last of the big three, Edison in 1909, with his series of Amberola phonographs joined the "-ola" internal horn trend, started by Victor's Victrola in 1906 and followed by Columbia's Grafonola in 1907. The Amberola V of March 1913 was Edison's first internal horn table top model and was made in oak or mahogany. Motors and mechanisms were based upon the single-spring Home Model B. Being built before the big 1914 factory fire and before WWI, the quality was much better than that of later Amberolas (30, 50, 75, ...). It is the only machine with a massive flutter suppressing flywheel stabilizer, it is gear driven (no belts), it has an automatic shutoff and a Diamond B reproducer for 4 minute cylinders. It's motor is second only to the Opera motor. The diamond B reproducer produces the best audio of all Edison table models. It is a 4-minute only phonograph, playing black wax 4 minute Amberols started in 1908, and blue celluloid Amberols from 1912 on.
Additional information:
ref.1: http://memory.loc.gov/ammem/edhtml/catalog/catalog12.html
ref.2: http://www.youtube.com/watch?v=Hb6oOoqwRHc
ref.3: http://www.youtube.com/watch?v=3SrzN0R9iVQ

About my phonograph:
The machine has been thoroughly cleaned and in-depth serviced. The mahogany cabinet has its original finish and no chips, cracks or scratches. The chrome fittings as well as the telescopic tonearm are rust-free, and the bed plate's maroon finish has only small spots that needed to be touched up. The pin-striping is nearly 100% intact. The phonograph plays loud and clear. I made two youtube videos (click on pict.s 35 and 37):
1. blue Amberol 2098 [1913], popular 1910 song "Every little movement (Has a Meaning All Its Own)" from the musical "Madame Sherry", by Karl Hoschna and Otto Harbach (1910), sung by Marie Narelle as Lulu and Frederic Potter as Leonard. Marie (Molly) Narelle was an Australian soprano called "The Australian Queen of Irish Song". The song has been recorded and parodied by dozens of artists, including Doris Day. Judy Garland, Lily Mars and Peggy Cummins, Polly Bergen, Ann Morgan Guilbert, Marie Lloyd and others
2. blue Amberol 4362 [1921] Piano Solo "Make Believe Medley" by Ray Perkins. Ray was an early ragtime and jazz pianist, composer, singer and actor, brother of musical comedy actress Bobbie Perkins and novelist Grace Perkins. The song was recorded 1921 in New York onto the Edison Diamond Disk #50806 (also for sale as an option) and then dubbed onto the cylinder. Ray Perkins was famous for his extremely syncopated style, which survived especially in his numerous and collectible piano rolls
The two cylinders are included in the sale. Please e-mail me (Kris) for any questions, ich spreche Deutsch, je parle Français.

Here are the specifications:
Technical Description of Item

Manufacturer
Thomas A. Edison Inc., Orange, N.J., USA
Model
Amberola V
Type
Internal horn 4-minute cylinder phonograph
Production Year
1913
Serial Number
386
Cabinet
Mahogany wood
Reproducer
Edison Diamond B, serial number 24542
Tonearm
Chrome, telescopic
Motor
Single spring motor
Controls
On/off, speed, stop position,, record down/up
Dimensions (WxDxH)
17" x 22" x 17½"
Weight
18.7 kg = 41 lbs
Extras
Blue Amberol cylinders #2098 and #4362 (see text)
Comment
Substantial and best quality cylinder player for all your 4-minutes
| | | | | |
| --- | --- | --- | --- | --- |
| | | Please have a look at prices and more radios, phonographs and gramophones here | | |